Life isn't easy, and it often throws the unexpected at us. Or maybe we build up expectations in our minds and they don't necessarily play out. I'm very good at doing the latter. When I'm stressing about something and someone asks me what's the worst that could happen, I often laugh internally because if they only knew the variety of "worse" I could come up with, they'd either run away or commit me. In these cases it's sometimes an internal battle of logic vs. impossible for me, but I'm happy to say I manage.
Kudos, if you get the reference.
Where was I going with this? Oh yes...
The point is, I'm very good at laying out exactly how my life is going to (should?) play out, but then reality reminds me that life doesn't work so smoothly (and honestly, if it did, I think we'd all eventually become bored out of our minds).
Art isn't an easy career choice. I knew this when I started, but I'm also very stubborn, so I persisted. Then about two years ago I had an epiphany. I wasn't happy. I was too stressed over trying to make ends meet and missed just doing art for myself. I create because it makes me happy and because what I make often makes others happy, but the business end of it was headache inducing.
I made the decision to go back to school and earn a second degree studying to be a veterinary technician. I've been fortunate enough to pick up a job at a local veterinary clinic since I started. It was a good decision, and I sort of wish I made it sooner. Now I not only get to draw and paint animals but work with them and make them feel better on a regular basis.
Because who wouldn't love to work with these cuties?
(Sorry, they're spoken for <3)
Of course, going back to school meant eating a big chunk out of my art time. I remember going through a withdrawal period during my first semester. It was HORRIBLE. I'd never been so happy to draw again when winter break rolled along. But I also was able to reflect on myself and what was really most important to me. I was drawing for fun again and not worrying so much about whether it would pay a bill or make a client happy, and I also really enjoyed working at the clinic.
Now I'm one semester away from graduating, and I feel like I have a better understanding of how I should work. I've delved back into my designs and have started putting plans together for another site revamp and store, but I'm taking it one step at a time rather than planning out my next twenty years like I was doing before. And since I work more with the animals I love to draw, it makes for lots of inspiration.
Of course, my favorite subjects are still my rodent friends, more specifically, my guinea pigs. I'm not a coffee person, but that didn't stop me from making the following coffee mug design...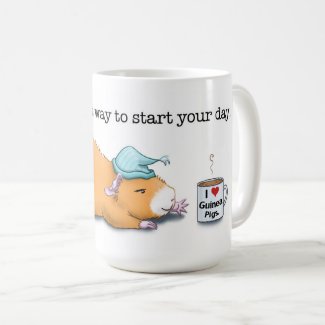 Cavy. The best way to start your day. (Mug) Coffee Mug
by
Digimals
Here's a better view of the full design...
I said "cavy," not coffee, silly.
For those of you who don't know, "Caviidae" (cavy family) is the scientific name for the family of rodents guinea pigs belong to, and "cavy" is often used by guinea pig people to refer to guinea pigs.
Cavy. Coffee. Get it? Ha ha… ha... ha...
(Hey, I'm sure someone's laughing)
If you're like me and don't drink coffee, I recommend hugging a guinea pig. It's a great way to start your day off on a happy note. And if you already agree with me, I also have a shirt design available here ---> Hug a guinea pig t-shirt
Anyway, in light of my new direction in life, expect to see more animal posts in addition to my art related ones. Also be on the lookout for my new designs. There's still two months before the new semester starts up again, so who knows what could happen?